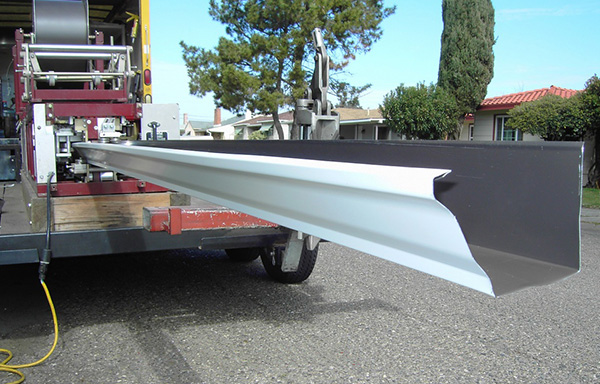 Gutters
Seamless gutters differ from traditional gutter systems because they do not feature any "seams" or cuts. They minimize leaks and are much easier to clean than a sectional gutter system because they are more effective at preventing leaves and other debris from hindering water flow.

Seamless gutters are custom cut-to-fit on-site with a special gutter machine. This machine takes a heavy roll of flat aluminum and folds it into the shape of a gutter. The installation crew takes careful measurements, and then create gutters in a length to cover as much of a straight line as needed – even over 100 feet! There are no seams in the length – even at the downspouts. A fitting is punched into the gutter, in a way that any leakage is into the downspout. This results in a leak-proof gutter.
Different Colors to Match Your Building
We use DIFERENTS local Fort Worth -dallas - vendors, with dozens of color options. Builders often use standard colors, so that they know they will have a match with the most common and asked-for gutter colors. Our representative can help you choose. We can also special order, but it takes time, so please give us lots of heads up to arrange that!
Many Colors
You can choose from a wide range of available colors. And, we can even customize the color to your needs.
No Cuts No Leaks
Seamless Gutters are cut and made on-site for the length they are needed. So, without cuts and connection, there is less chance for leaks.
Business and Homes
5" for most homes and 6" for a heavier load. We an make them from copper or aluminum.