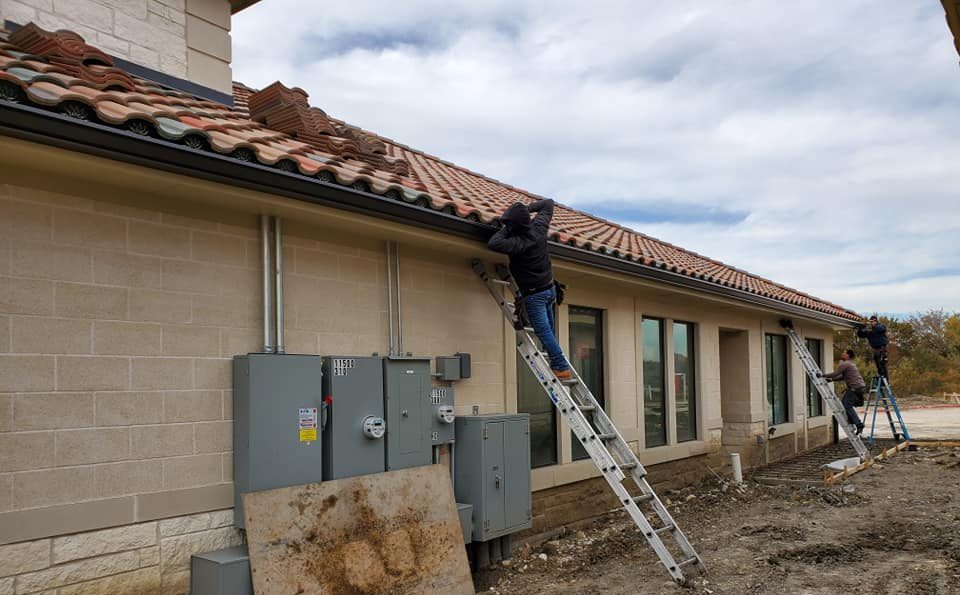 Installation
We are known primarily for repairing and installing alluminum or copper seamless gutters, 5" and 6". And we offer a wide variety of colors to match the color of your house. But we also do fence installation and repairs, lawn care, soffit and fascia (those long planks of wood that meet the edge of your roof), french drains , roofs, leaf guards, and painting.

In the image above, we are installing a new seamless gutter system. As you can see from the image, it is a very long piece of gutter. Because there are no parts to be connecting together, a seamless system like this reduces the possibility of leaks, which can damage a building's structure. We are not done yet. We still need to install downspouts, enough to prevent the gutter from getting too heavy on rainy seasons.
To install a replacement or new gutter system we start by carefully measuring all lengths. We will then use our portable seamless gutter machine to make the custom gutter for the right shape and size (up to 100 feet long).

We will remove the old gutter system and dispose of it for you, free of charge. We will inspect the fascia and replace it if it is rotten or damaged.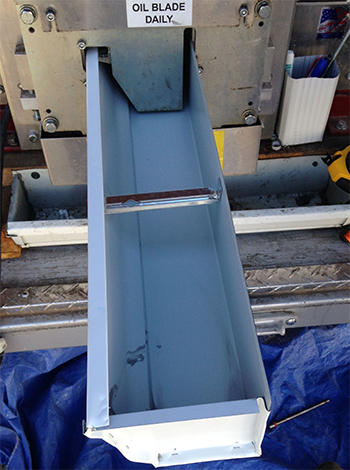 Our installers will also inspect the flashing (flashing protects your fascia and soffit from water damage and part of it is hidden under the shingles). Our team will install new flashing if necessary.
At this point our team of experts will begin the process of hanging the seamless gutters, resting part under the flashing and against the fascia. We make sure there is a slope of about 1/4" for every 10 feet of length in order for water to flow smoothly down to the spout.

The gutters are secured with gutter hangers and screws at a 24 inch interval. Leak-proof holes for the drain pipes (downspouts) are carefully cut around every 20 feet to prevent the gutter from getting too heavy when there is heavy rain.

Some adjustments, sealants in some places, drain filters, water leak tests and water flow tests and the installation is ready in less time than you can imagine.

Black Diamond Seamless Gutters employees will always leave our working are neatly clean and will dispose of any debris at no cost to you.